#5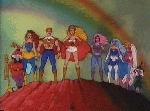 SHE-RA PRINCESS OF POWER
original airdates: Sept 23, 1985-Jan 1988 in syndication
episodes: 93
animated by: Filmation Associates
distributed and owned by: Hallmark Entertainment and Mattel Toys, Inc.

She-Ra Princess of Power is currently not on US television.

SHE-RA SUMMARY:
Adora, Prince Adam's long lost twin sister, was kidnapped by the evil Hordak from the
planet Etheria when she was a baby.  She grew up as a servant of Hordak, but He-Man found
her and gave her a magic sword from the Sorceress.  When Adora raises the sword and 
cries, "For the Honor of Grayskull" she becomes She-Ra.  She-Ra joins a group of rebels 
to free Etheria from the evil forces of Hordak.

EPISODE GUIDE
1st Season (Sept 23, 1985-Fall 1986) 65 episodes
NOTE: The first five episodes of She-Ra Princess of Power were edited into a theatrcial
movie, "He-Man and She-Ra: The Secret of the Sword" (1985)

#01 Into Etheria
#02 Beast Island
#03 She-Ra Unchained
#04 Reunions
#05 Battle For Bright Moon
#06 Duel At Devlan
#07 The Sea Hawk
#08 The Red Knight
#09 The Missing Ax
#10 The Prisoners of Beast Island
#11 The Peril of Whispering Woods
#12 The Laughing Dragon
#13 King Miro's Journey
#14 Friendship
#15 He Ain't Heavy
#16 Return of the Sea Hawk
#17 A Loss For Words
#18 Horde Prime Takes a Holiday
#19 Enchanted Castle
#20 Three Courageous Hearts
#21 The Stone In the Sword
#22 The Crystal Castle
#23 The Crown of Knowledge
#24 The Mines of Mondor
#25 Small Problems
#26 Book Burning
#27 The Eldritch Mist
#28 Bow's Farewell
#29 The Price of Freedom
#30 Play it Again, Bow
#31 The Reluctant Wizard
#32 Friends Are Where You Find Them
#33 A Talent for Trouble
#34 Troll's Dream
#35 Gateway to Trouble
#36 The Unicorn King
#37 The Anxious Apprentice
#38 Zoo Story
#39 Into the Dark Dimension
#40 Treasure of the First Ones
#41 Glimmer's Story  
#42 Enemy With My Face
#43 Welcome Back, Kowl
#44 The Rock People
#45 Huntara
#46 Micah of Bright Moon
#47 The Price of Power
#48 Birds of a Feather
#49 For Want of a Horse
#50 Just Like Me
#51 My Friend, My Enemy
#52 The Wizard
#53 Unexcepted Ally
#54 The Light of the Crystal
#55 Loo-Kee Lends a Hand
#56 Of Shadows and Skulls
#57 Jungle Fever
#58 Black Snow
#59 Anchors Aloft Part I
#60 Anchors Aloft Part II
#61 Darksmoke and Fire
#62 Magicats
#63 Flowers for Hordak
#64 Wild Child
#65 The Greatest Magic

2nd Season (Fall 1986-1987) 14 episodes
#66 One To Count On
#67 Return of the General
#68 Out of the Cocoon
#69 A Lesson in Love
#70 Something Old, Something New
#71 Loo-Kee's Sweety
#72 The Pearl
#73 The Time Transformer
#74 Above It All
#75 Day of the Flowers
#76 Brigis
#77 The Caregiver
#78 When Whispering Woods Last Bloomed
#79 Romeo and Glimmer

TV SPECIAL
He-Man and She-Ra Christmas Special (Dec 1986 one hour special that aired on television
and was released on home video)

3rd Season (Fall 1987-Jan 1988) 14 episodes
NOTE: These episodes were produced in 1986, but not aired until the fall of 1987.
#80 The Perils of Peekablue
#81 Just the Way You Are
#82 The Locket
#83 Shera Makes a Promise
#84 Bow's Magical Gift
#85 Sweet Bee's Home
#86 Glimmer Come Home
#87 The Inspector
#88 Portrait of Doom
#89 Hordak's Power Play
#90 Shades of Orko
#91 Assault On the Hive
#92 The Bibbet Story
#93 Swifty's Baby

VOICE ACTORS
Melendy Britt as Castaspella, Catra, Mermista, Octavia and She-Ra/Princess Adora 
George DiCenzo as Bo, Hordak and Sea Hawk
Linda Gary (died in 1996) as Glimmer, Madame Razz, Scorpia, Shadow Weaver and Sweet Bee
Diana Pershing as Netossa
Erika Scheimer as Frosta and Queen Angella
Lou Scheimer (aka Erik Gunden) as Kowl, Leech Loo-Kee, Mantenna and Spirit/Swiftwind


---


LINKS
See also He-Man and the Masters of the Universe Resource Page

Go back to the Cartoon Resource Pages

Go back to CybertOOn's CartOOn Campaign



---


HE-MAN AND SHE-RA LINKS
The He-Man and She-Ra Episode Review Website


Teela's He-Man and She-Ra Campaign-For more She-Ra links, go here!



---
cybertoon2000@hotmail.com
This page was created on Aug 11, 1999
---

This page has been visited

times.

---